The Flower Planter Pot is suitable for Modern Home Decor. Perfect as a holiday gift for your friends or family who love planting plants.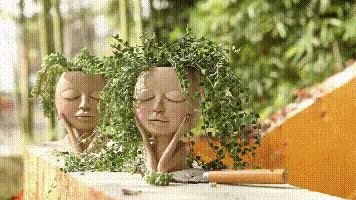 The head acts as a holder for soil, you can use it to plant mini green plants, such as herbs, succulents, or cacti. 
Made of high-quality ceramics. The plant pot is lightweight and durable to use. There are some differences between Every flowerpot by being handmade painted.
Size: The opening Diameter is 4.8 inches, Bottom length is 3.6 inches. Height is 6.8 inches. (Plants are not included.) / 17*12*9cm 
Weight: 1.1 lb / 0.5kg