---
PULSE OXIMETRY IS A PAINLESS AND NONINVASIVE TEST THAT MEASURES HEART RATE AND OXYGEN SATURATION LEVELS IN YOUR BLOOD.

Our Pulse Oximeter is a absolute must have small, clip-like device that attaches to a body part, like fingers, toes or an earlobe. 
Our Pulse Oximeter can rapidly detect even small changes in how efficiently oxygen is being carried to the extremities furthest from the heart, including the legs and the arms.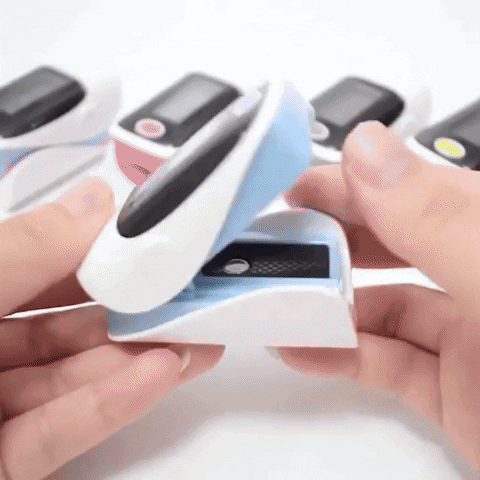 Why Might I Need A Portable Fingertip Pulse Oximeter?
Pulse Oximetry may be used to see if there is enough oxygen in the blood. This information is needed in many kinds of situations. It may be used:
During or after surgery or procedures that use sedation
To see how well lung medicines are working
To check a person's ability to handle increased activity levels
To see if a ventilator is needed to help with breathing, or to see how well it's working
To check a person has moments when breathing stops during sleep (sleep apnea)
Pulse Oximetry is also used to check the health of a person or pre warn of any condition that affects blood oxygen levels, such as:
Heart attack
Heart failure
Chronic Obstructive Pulmonary Disease (COPD)
Anemia
Lung cancer
Asthma
Pneumonia
Your healthcare provider may have other reasons to advise pulse oximetry
Why Choose Marilas Lab's Portable Fingertip Pulse Oximeter?
With Marilas' Oximeter, you can measure the oxygen level (oxygen saturation) of your blood anytime and anywhere.
It can read your Blood Oxygen Saturation (SpO2) - Your SpO2 reading is an estimation of the amount of oxygen in your blood. An SpO2 reading of 95% or greater is generally considered to be a normal oxygen level.
This device displays your Pulse Rate - Your pulse rate is an estimation of the number of times your heart contracts per minute. Normal pulse rate values for adults range from 60 to 100 beats per minute (bpm).
Why Is Oxygen In the Blood Important?
The fact that oxygen is essential to human life is well known. Air that is inhaled contains oxygen. Human lungs are the organs where the inhaled oxygen enters the bloodstream and reaches all the cells in the human body.
That's why we designed our oximeter for people who want to check on loved ones or know SpO2 (Blood Oxygen Saturation Levels) and pulse rate levels. Portable oximeters are an essential item to carry with you. They come in different colors to suit your trendy style!
Features:
The Large and Rotatable Display on our Pulse Oximeter allows you to view your results in any direction easily, offering 4 different layout options, making it more convenient for your caregiver to read. 

 

It's only necessary for users to put one finger into the fingertip photoelectric sensor for diagnosis, and a display screen will show measured value of Hemoglobin Saturation in about 10 seconds.

Soft diamond striped anti-slip mat with soft silicone pad and diamond-shaped non-slip wire make it comfortable to wear and not fall off.
Compatibility
The free iHealth SpO2 App is compatible with any iPhone
iTouch, iPhone or iPad with WiFi connectivity
Once you've downloaded the free "iHealth SpO2 app" from the App Store, you'll be ready to use your Wireless Pulse Oximeter. We've made it easy for you to track your progress and get inspired to manage your health in a more hands-on way, wherever you go.

Package Included: